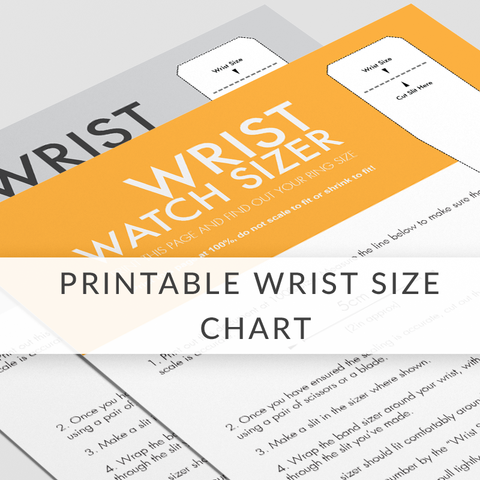 Size: A4 & US Letter
Printable Wrist Size Measurement - ED1011
LICENSE TYPE: What are these?
Download instantly: Once purchased an email will be sent instantly with the download link. Available 24/7. Read our FAQ for more.
Downloadable customer Wrist sizer for watch sales
Allow your customers to download this printable wrist size tool from your website. The chart explains in simple steps how to print, cut out the strap and measure their correct wrist size prior to making a watch purchase. Send this to all your customers after they have made an order to check their wrist size reducing unhappy customers and returns of expensive items for alternate sizes. 
The sizes are presented in both cm and inches for ease of use and provided in both printable A4 and US Letter sized pdf's. All four colours provided on purchase. If you want to add your own logo make sure you choose the bespoke option on purchase. 
ADD YOUR LOGO
If you would like to provide your own logo and contact info along with a colour for the top bar to match your website please choose the branded version above and we will deliver within 24 hours. You will still receive the standard version instantly to allow you to start adding to your website.