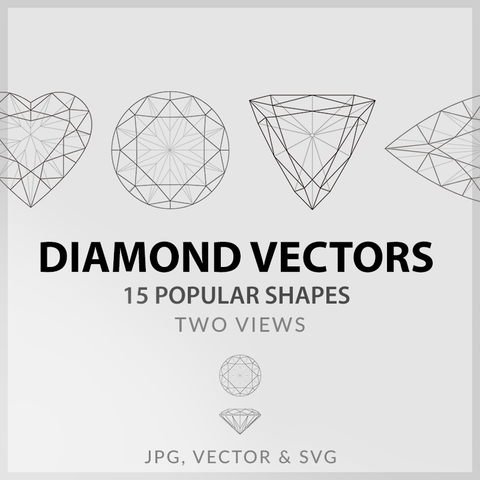 Size: 600x600px + Vector
MP005 - Complete Diamond Illustration Pack
LICENSE TYPE: What are these?
Download instantly: Once purchased an email will be sent instantly with the download link. Available 24/7. Read our FAQ for more.
Diamond Line Work Images & Diamond Vector Image Packs 
The most comprehensive set of diamond images on the internet. Now Featuring 15 of the most popular diamond cuts, a truly complete Pack of illustrated diamond images. These diamonds are 100% accurate and convey the true cut style that each stone presents. 

Shapes included in the pack include:
Round Brilliant cut Diamond, Princess Cut Square Diamond, Emerald Cut Diamond, Heart Cut Diamond, Oval Cut Diamond, Marquise Cut Diamond, Pear Cut diamond, Radiant Cut Diamond, Cushion Cut Diamond, Asscher Cut Diamond, Tapered Baguette Cut Diamond, Baguette Cut Diamond, Old Single Cut Diamond, Trilliant 'Cushion' Cut Diamond & Trilliant 'Straight' cut Diamond.