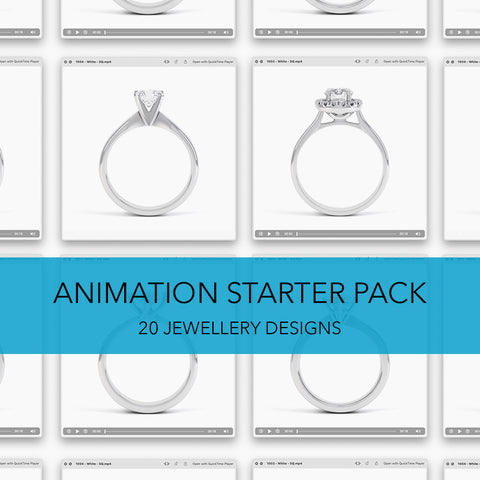 Size: 1080x720px
Animation Starter Pack - V1003
LICENSE TYPE: What are these?
Download instantly: Once purchased an email will be sent instantly with the download link. Available 24/7. Read our FAQ for more.
Diamond Ring Animation Pack
** FEATURING 20 STANDARD JEWELLERY DESIGNS 

**
Check out our beautifully rendered animation starter pack for jewellers. The pack features 20 standard product designs to enhance your website and social media. Each design, based around a standard solitaire, semi-set, or Halo mount design, features 2 beautifully rendered 3D rotational videos in both widescreen and optimised square web view and a full HD image pack featuring 3 Views in 2 Metal Colours. We've even created a separate set of web-ready optimised smaller renders to easily update your website. 
Total Image Pack worth over £4000
(Based on £20 Per Image Pack and £50 Per Video) 
Test Animations on your website
Video is becoming a lot more popular on diamond jewellery websites. It engages the user and showcases the products in an entirely new way. This pack has been designed to make it easy to try and test video and animation designs on your website. Each product set contains both images and video. The video has been optimised for web view so can be easily integrated into a product page to test your website features. So even if you don't sell these designs you can create a set of test product pages to see how your product might look with images and video combined. You can then use these tests to create a set of product videos of your own designs. 
Use for product sales

These designs have been modelled and rendered by our own team at JewelleryGraphics. Each design is based on timeless Diamond Solitaire designs from around the world that many companies imitate with subtle differences. The complete set comprises of 4 Claw, 6 Claw and tension set designs, with a majority being Round Brilliant Cut Single Solitaire designs. There are a few fancy shapes, Semi Sets, and Halo Designs to complete the set. 
Please note we do not provide the CAD models for these designs for manufacture. This set is for visual purposes only and if you intend to sell them you will either have to create your own models or find a manufacture that sells similar designs and purchase from them.