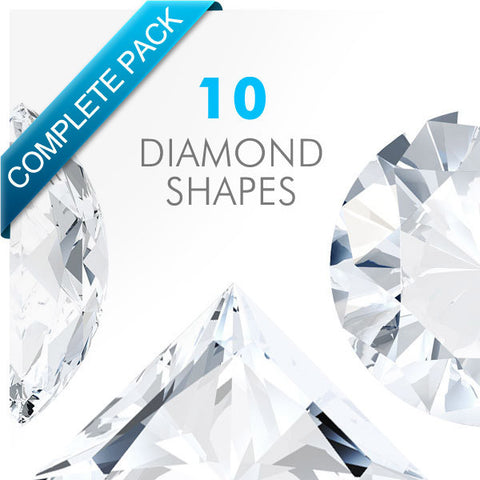 Size: 1600x2000px
MP006 - Complete Diamond Image Pack
LICENSE TYPE: What are these?
Download instantly: Once purchased an email will be sent instantly with the download link. Available 24/7. Read our FAQ for more.
Royalty Free Diamond Image Pack 
**NOW WITH ALL 11 POPULAR SHAPES**
Featuring 11 of the most popular diamond cuts, this is a truly beautiful Pack of diamond images to download and use instantly. You'll be hard pushed to find a complete royalty free diamond pack online to use on your website or marketing material.
Pack Contents
Round Diamond Image Set, Princess Cut/Square Diamond Image Set, Emerald Cut Diamond Image Set, Heart Cut Diamond Image Set, Oval Cut Diamond Image Set, Marquise Cut Diamond Image Set, Pear Cut Diamond images set, Asscer Cut Diamond images set, Cushion Cut Diamond images set, Radiant Cut Diamond images set, Baguette Cut Diamond Image Set.
Each individual diamond set comes with 6 images. A side view and top view on white, pink and blue backgrounds, and a transparent cut out top view provided with and without the shadow and a transparent side view.
Our images are created on brilliant white backgrounds allowing them to be added to any website page or print document with ease. You can take advantage of our stunning large format documents provided in high resolution, layered Photoshop files too. These files provide transparent diamond views with separate shadows and reflections to use in high quality artwork, print and marketing brochures or scaled down for web use.