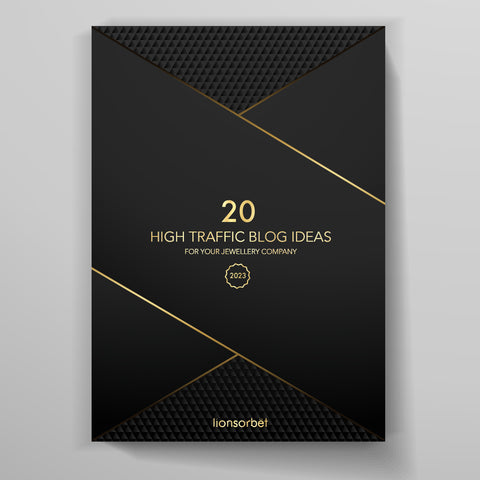 Size: Screen Size
20 High Traffic Blog ideas for your Jewellery Website - eBook
LICENSE TYPE: What are these?
Download instantly: Once purchased an email will be sent instantly with the download link. Available 24/7. Read our FAQ for more.
eBook for Screens, Tablets and Kindle 
Get MORE Traffic and Sales to your Jewellery Website 
Need blog ideas but are not sure what to write? Finding it difficult to know what search terms are getting the most traffic?  Our SEO Experts at Lionsorbet have completed an extensive keyword research project to bring you 20 high-traffic search terms for the diamond and jewellery industry.
Each search term currently generates thousands of visits to websites per month and can lead to new enquiries and sales. If you write and publish the 20 blogs outlined in our eBook and follow our bonus blog writing guide, we promise you will increase your website traffic over the next 12 months. 
Content creation is important in the marketing of your jewellery business because it allows you to establish yourself as a trusted and authoritative source in your industry. By creating valuable and informative content that addresses the needs and interests of your target audience, you can attract and engage potential customers, build brand awareness and loyalty, and drive traffic to your website. Additionally, well-crafted content can help to improve your search engine rankings and increase visibility, making it easier for your customers to find your business online. 
If you want to increase the likelihood of sales conversions then provide your customers with the information they need to make an informed purchasing decision. Content creation is a powerful tool for building a strong online presence, attracting and engaging customers, and driving sales for your jewellery business.
 eBook Contents
This eBook was initially undertaken to give our Jewellery clients some content ideas to help drive traffic to their websites through search engines. When we started researching we realised that very few of the blogs written actually get that much traffic due to low search volume. Although all content is great for a website to give information to your customers it can be very time-consuming and costly to create. To make this easier for you we have researched the 20 top-ranking articles in Jewellery for traffic and search volume online. The eBook consist of:
☑ 20 BLOG post title ideas      
☑ Researched Keyword list
☑ Comprehensive alternate searched questions 
☑ Blog post checklist to enhance your content
☑ 100's of hours of work
☑ Get ahead of your competitors and write what is most important
---
Website Audit & Seo Consultation

If you are running a jewellery website and are looking for tips to improve your traffic, site health, sales and enquiries, our team at Lionsorbet can perform a professional site audit plus arrange an online consultation to discuss our findings, and offer you in-person tips to update your website and increase enhance your online profile. Our Website Audit and Consultation include:
☑ A Professional pdf report of your website's traffic and health 
☑ Outline of improvements that can be made to enhance your Search engine performance
☑ A list of your website's popular pages and top referrals
☑ 1hr Consultation with one of our Jewellery SEO experts to discuss your report and find ways to increase your traffic and sales
---
Frequently Asked Questions
If other companies have already written these blogs what is the point in us writing it too? 
Stop thinking about what your competitors have or haven't written and start giving your customers the information they need from you rather than someone else. By creating your own content you are providing authority in your field, creating a trust to establish a relationship and offering help and guidance to make their buying decision easier. 
Does it harm my website to create blogs already written by others?
Only if you copy and paste another company's blog. Never do this! Research the subject yourself and write content that has your company's voice, experience, expertise and opinions. Use the links we provided to show the top-ranking articles to see what types of content and information they are providing and see if you can provide a better overview of the subject. Can you provide better or more detailed images? Do you feel your experience gives you a better understanding of the subject? Can you help your customers more by giving them a thorough overview of the subject?  Basically, don't be lazy. This is not a race to create the most content but a process of creating accurate, detailed, informative and educational content to help your customers before, during and after they buy from you. 
We don't have the resources to create this content. What can I do?
Once you decide to put a priority on content creation and understand that this is the tool for increasing traffic and sales organically then you've already made a huge step. Well-researched blogs take time and coupled with a targeted SEO campaign you will see greater results over time. Our team at Lionsorbet provide professional SEO and Content writing services for Jewellers with simple monthly plans to help you write great content and help drive traffic to your website. Alternatively, if you put an ad out on Upwork, People Per Hour or Linkedin looking for freelance services in content and blog writing you will find a large range of professional copywriters that will be able to help you create fantastic content for your website. 
Should I use images and videos in my blog?
Yes but only if they serve a purpose and add value to the content. Make sure you create a main header image that captures attention and can be shared on social media platforms. View our blog here: https://www.lionsorbet.com/education and see examples of images being used in the header and inside each blog post too. Consider images from stock sites like our own Jewellery Graphics Library,  Shutterstock and Deposit Photos, Creative Market and free sites like Pexels. 
Can I copy other people's blog posts and add them to my own? 
No! this is really bad practice and can actually harm your website and devalue your search position in google. It may be quick and easy to do, even if you reference the original website but you will gain no value at all from doing this and only strengthen your competitor's content further.  Take it slow and write one article per month if you don't have enough resources or budget to hire a researcher. this time next year you could have 12 really insightful blog posts, all gaining a little bit of traffic to your website. 
How can I get the most out of our blog posts?
Although blog posts are a great way to gain traffic through search engines, the content can be used in many ways to add value to your business.
Gain authority by posting and sharing on social media websites such as Linkedin, Facebook and Twitter.
Add trust and confidence to your customers by adding your blog posts to your newsletters and literature.
Add value to sales enquiries by sending links to content that might educate your customer a little more before your scheduled meeting or appointment. This will ensure you have answered the most common questions before you talk and increase their likelihood of making a purchase.
Provide insightful aftercare information to enhance your customer services and leave a lasting impression. 
Automate your customer experience by reducing overall sales and aftercare service time by pointing to guides and education that already give the answers or directions to your customer's most common questions.