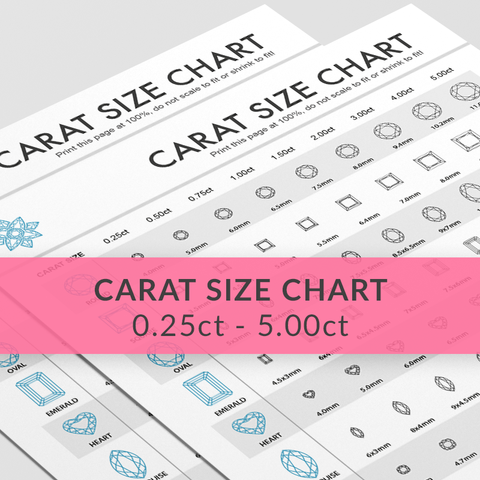 Size: A4 & US Letter
Printable Carat Size Chart - MJ1019
LICENSE TYPE: What are these?
Download instantly: Once purchased an email will be sent instantly with the download link. Available 24/7. Read our FAQ for more.
Downloadable Carat Size Chart - 0.25ct - 5.0ct  
Allow your customers to download, print or view this informative carat size chart packed with useful information about their diamond purchase. This handy guide presents 10 beautifully Illustrated Diamond shapes and their size representations against standard Carat Weights. Taken from Standard Ideal cut proportions, each Diamond Shape is shown in 0.25ct, 0.5ct 0.75ct, 1.0ct, 1.5ct, 2ct, 3ct, 4ct & 5ct. 
Provided in both printable A4 and US Letter sized pdf's. 
ADD YOUR LOGO
If you would like to provide your own logo and website address, along with a colour for the Diamond Shapes to match your website please choose the branded version above and we will deliver within 24 hours. You will still receive the standard version instantly to allow you to start adding to your website.