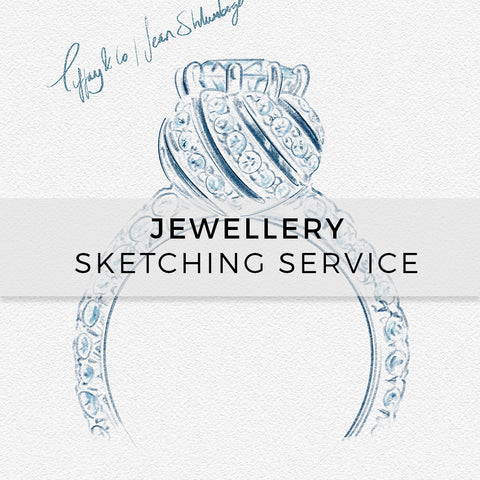 Size: hand-drawn sketches of your products
Jewellery Sketching Service
Our Jewellery Sketching service is now offered via our partner www.tinyjewel.co.uk →
Please visit Tiny Jewel to find out more about the service to jewellers and how you can get professionally sketched jewellery designs and artwork of your products to add to your website and marketing material.
The Service is completely 'White labelled' so you can you can add your own company logo's and signature to ensure they work well for your brand.
WHO IS THIS SERVICE FOR?
Jewellers, designers and trade companies that don't have artistic ability in-house. Make your designs stand out and present beautifully detailed sketch designs to your customers.
View the gallery below for examples and styles that you may wish to use in your marketing.
Beautiful, hand-drawn sketches of your Jewellery
There is something truly beautiful and personal about pencil on paper? A timeless tradition that illustrates creative development, is rich in inspiration and has a powerful visual appeal. Sketching is a process that transcends technology, helps discover beautiful ideas and solve complex problems.
We provide a sketching service for your jewellery products. Send us images of your product and we will produce a detailed, authentic sketch of your design in any view you choose. Add annotations and your company signature and have a plain white or a textured paper background. Go one step further and have your actual product photograph integrated into the image alongside a sketchpad view. Great for banners and website images.
Why you NEED this service
Add something your competitors don't have on their website. Show the human touch, thought process and inspiration behind the design. Present technical details in a unique and alternative way. Add a visually attractive element to your marketing. 
Option 1 & 2: Product Sketches
Single product sketches in any view you wish. Popular views are top and side view or 3/4 perspective. We will provide a high-resolution digital image of your sketch on a white background and on a paper texture too. We typically prefer a blue pencil colour style but you can opt for charcoal if you prefer. Choose Option #1 for a single sketch or Option #2 for two sketches e.g a top and side view. Below are some customer samples.
Option 3 & 4: Product Sketches with Sketchpad and Product View
We provide your sketch as detailed above plus we will provide a high-resolution image of your sketch on a sketchpad along with the product photograph too. These images are perfect for website banners, bespoke design page sections, product page additions and social media accounts. Option 3 is for a single sketch plus the sketchpad view, Option 4 is for 2 sketches of your product plus the sketchpad view. Below are some customer samples.
Option 5: Lifestyle sketches / on-ear, finger or neckline
We can create some beautifully detailed drawings of your products on hands, necklines or ears to add interest and value to your product pages and website marketing. Great as an addition to your photography or a cost-effective replacement for lifestyle photography. We can work from any reference photography to create the perfect pose and style for your products and brand. 
Send us your Product Images
We work from images that you send to us only. Once ordered please send high-quality jpg images to info@lionsorbet.com quoting your order reference number. Please do not send us your products. This actually makes the process longer and more costly. If you don't have professional photographs of your products, images from your phone will work if the jewellery is in sharp focus and well lit. Alternatively, you can use our Jewellery Photography Service to create further imagery.

Want something unique?
We pride ourselves on creating beautiful imagery from any design in any style. If you are looking for something unique or bespoke to your brand we can tailor the results to meet your requirements. You can view our sketching service here: https://www.tinyjewel.co.uk/